How We Match Entry-Level Employees: Avenica's Matchmaking Model Operates in the Following Ways
Direct Hire
Rely on your account team to identify candidates who can immediately join your team and start adding value. This is the standard sourcing option where hiring partners prefer getting talent using a direct-hire model.
Project
Whether covering a leave of absence or helping with a major project, we can provide shorter-term workforce solutions on an as-needed basis.
Research-Based Corporate Hiring Process
Our process was designed based on behavioral and data science research and goes beyond simply screening the resume. We identify an individual's preferences, transferable skills, career interests, and company culture fit to ensure that we present you with the best matches. Our goal is to help you fill your entry-level positions with the right employees who will impact your business and grow with your organization for years to come.
LET'S WORK TOGETHER
Coaching and Certification
Every candidate that goes through the Avenica process gets some level of coaching mentorship. We also know that there are many skills that certain jobs require that the traditional education system can't provide. For those positions, we provide training and/or certification needed to help entry-level candidates compete in more specialized fields that need an additional layer of knowledge.
PARTNER WITH AVENICA
Discovery And Introductions
From culture and work environment to workforce needs and goals, Avenica works to understand each hiring partner to become a true partner and solutions provider.
Talent Matching Process
Through a rigorous candidate journey of getting to know each candidate beyond their resume, Avenica finds candidates with the right skills, personality, and potential for each position and company.
Identify Potential Candidates
Your dedicated account teams carefully select candidates with the right profiles and after thousands of candidates present only the top 2-3 for consideration.
Present and Schedule Candidates
Your talent operations team member will manage all the logistics of scheduling and coordinating all on-site interviews with the candidates for you and your team.
Hiring & Onboarding
You select your preferred candidate and Avenica starts the hiring process. For direct-hire positions, we will work with you to help make your hiring process go as smoothly as possible. With the Evaluation-to-Hire model, we'll check in to ensure we've made the right match and also provide valuable ongoing coaching and mentorship to your new hire.
Manager, Property/Casualty Insurer from Minneapolis/St. Paul
After a new hire joins us, Avenica routinely checks in and ensures the new hire is doing well. The Avenica model works very well and has exceeded my expectations at every venture.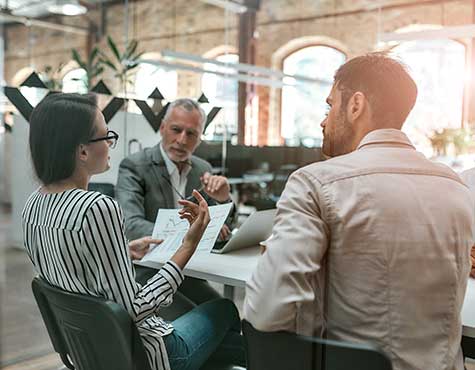 Partner with us and leverage our network of exceptional talent to fill your entry-level roles.