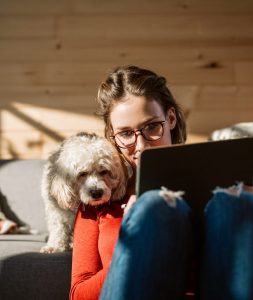 As the holidays and new year approach it is important to take care of yourself. It may feel like a balancing act between holiday cheer and your usual work tasks. There are many end-of-year deadlines and expectations to meet, potential family and social pressure, as well as a change in the weather. With all these factors contributing to a busy time of year, we collected a list of 5 things that may help you manage or relieve some holiday work stress.
1.)    Plan out your holiday work schedule in advance
If you are planning to take time off, ask early so you and your supervisor can manage time together and look ahead for anything that may need to be done before you are out. In addition, look ahead at the beginning of the month to understand which holidays fall on which days of the week. Maybe a meeting will need to be moved or after school care changed. By looking ahead, you can ensure that you have a plan for the holidays in all of the areas of your life.
2.)    Plan time for yourself
Just as looking ahead can help you plan with everyone else in your life, it is important to plan some time for yourself. It might just be spending 5 minutes in the car before or after work on a YouTube meditation or going for a 15-minute walk by yourself to clear your thoughts. It is important to take time for yourself during the holidays as others' expectations on your time may be higher than other times throughout the year.
3.)    Find out about your employer's benefits
Many companies offer fitness incentives, mental health resources, and other programs that may offer support during this time of the year (and beyond!). Reach out to your HR department about what may be available to you through your company's resources.
4.)    Check in with your coworkers
Holidays impact everyone differently, some may be celebrating holiday cheer while others may be looking for support for the season. If possible, take some time to connect with your coworkers to see if you can help support their workload. In addition, consider adding some social connects to your calendar to let your coworkers know that you have their back in their personal life as well.
5.)    Give back
The season of giving is all around. If you are looking for a way to feel good this holiday season look into some local ways to give back to your community. Consider volunteering at a local humane society, food drive or similar opportunity. You may even invite some of your coworkers to participate in a toy drive or other way to give back as a group to promote community within your team.
___
If you're looking for information on how to kickstart your career, browse jobs today! We help entry-level job seekers find positions that fit their expertise and career goals. Find more advice to help you in your job search.