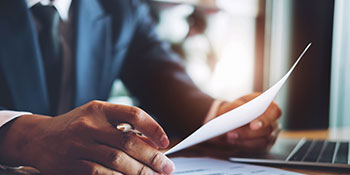 Can you guess one of the top reasons why we pass on qualified candidates after an interview? It's not because the candidate wasn't able to articulate their strengths or weaknesses, and it's not because they didn't provide a well-thought out response to our critical thinking question. It, surprisingly, is due to lack of professionalism.
In fact, a recent study shows that 38.2 percent of employers responding reported that fewer than half of their new employees exhibited professionalism. So, what exactly does professionalism mean? It can mean many things, but the ones that stand out the most to hiring managers and recruiters fall into the following three buckets.
Unsuitable Appearance
While this may seem obvious, we see candidates fail this first and extremely important "test" quite often. The way you present yourself tells your interviewer(s) a lot about you.
Judgement: There is no one-size-fits-all answer to what appropriate attire is for an interview; different positions require different standards of dress. But dressing appropriately for the job for which you're interviewing lets your interviewer know that you can accurately assess situations, understand expectations, and apply proper judgment when making decisions.
Respect: Dressing appropriately also shows that you have respect for yourself and want to present yourself in a positive manner. It also shows respect for your interviewer. You want to fit the role, impress them, and make good use of their time. Showing that you're mindful of how you present yourself and how you project onto others is crucial to getting past that first interview.
Intention: Showing up to an interview prepared and looking the part sends a clear message; you want the job. It indicates drive, eagerness, and initiative, which are all great qualities in candidates.
A Sense of Entitlement
Entitlement is a stereotype that sits with many individuals graduating within the last decade. In reference to the study mentioned earlier, entitlement weighs heavily with employers. In fact, 31% of employers consider it a "deal breaker."
Compensation Expectations: Candidates who focus on salary scream entitlement. Know what to expect going in. In entry-level positions, there's little wiggle room in salary. Before an interview, research the organization and the position—or similar positions—across different organizations and industries to get accurate salary expectations. Learn how salaries differ across government, non-profit, and corporate organizations and be comfortable with the findings before going into an interview.
Professional Development: Consider your first "real" job paid training. Instead of focusing on how much money you make, focus on what learnings you can gain that can help you advance to the next level and develop into a better professional.
Poor Communication Skills
Hiring managers and recruiters are constantly analyzing communication skills during an interview and are wise to do so. Poor verbal and written communication skills are flashing red lights for numerous big problems in the workplace.
Poor collaborator: Being able to work well with others and contribute in meaningful ways in a team environment is crucial to productivity and the overall success of a company. One person's inability to communicate and work within a team can lead to delays in work, lower team morale, and lower overall company effectiveness.
Miscommunication: In another recent survey, it was revealed that miscommunications lead to, higher stress levels, delays in work or altogether failure to complete work, low morale, missed performance goals, and lost sales. All in all, miscommunications are costly, and employers look to avoid people who cause them at all costs.
Difficult direct report: Poor communication skills can also indicate a difficult reporting relationship. Hiring managers look for people who they can have an open professional relationship with and someone who can take direction, give appropriate feedback, request help when needed, provide accurate updates, and can contribute to their team effectively.
Professionalism can be represented in many ways in an interview. And many are ways you can directly and positively affect. Dress appropriately, be prepared, show a willingness to work hard, and work on your communication skills. This is especially true, if you are finding little success in your job search despite having a good resume and solid experience.
–
About Avenica
Through conversation, high-impact coaching, and best-in-class support, we translate and meet the needs of our client partners by identifying and transforming potential into high-performing professionals. At Avenica, we are working from the inside out to embrace diverse thought and perspectives while actively working to dismantle systems of oppression and implicit bias. With a deeply-held belief in human potential, we transform lives and enable organizations to achieve new heights.
If you're interested in partnering with us to develop or hire your workforce, let's talk. If you're a job seeker, please apply now!