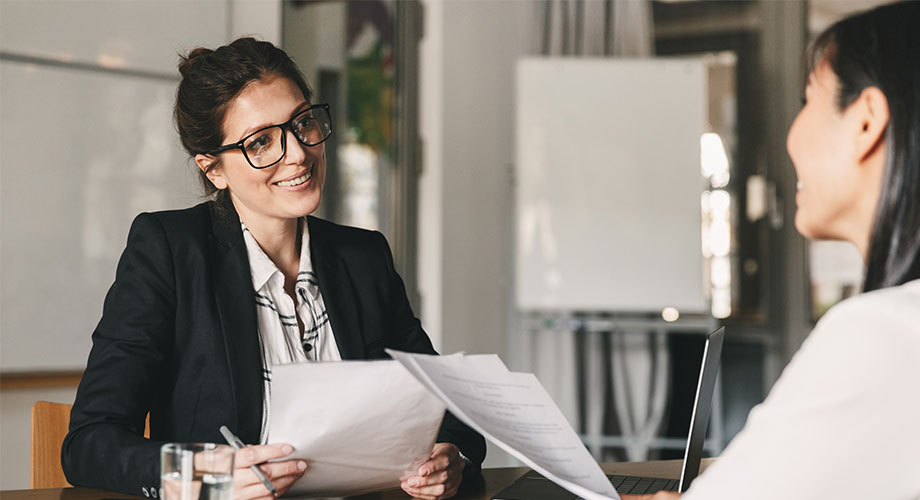 Avenica has helped thousands of college graduates find great entry-level positions to begin their career. One of the main keys to landing a position is taking the time to properly prepare for interviews. About half of each interview will consists of the interviewer gathering information as to why your qualifications make you the best choice possible for the available position. To answer questions like these, our experts recommend using the STAR Method.
To prepare for using the STAR Method in your interviews, practice the exercise below to familiarize yourself with the model.
Make a list of all the transferable skills or attributes that make you unique (Ex. Strong Communicator, Assertive, Persuasive, Focused, Adaptable, etc.) This requires dedicating time for self-reflection, and StrengthsFinder (published by Gallup®) is an example of a great resource that can help with this process.
Read the job description of the position for which you are interviewing. After reviewing, pick at least 7 of your strongest attributes that, based on your research, will be most appealing to the company/hiring manager.
For reach attribute, provide three specific examples of situations in which you have clearly displayed these strengths. Keep in mind, these do not always need to be professional examples. Extracurricular activities, part-time, and non-professional work can provide valuable examples as well.
While coming up with these examples, each should:
Describe a Specific Situation
Identify the Task or objective needed to address the situation
Highlight the Action you took
Discuss the Result of your action (this should be a positive outcome)
*Using the acronym STAR (Situation, Task, Action, Result) is a great way to remember the process.
Keep in mind that each of these examples should be concise (able to complete in a minute or less) and clearly illustrate your attribute.
Let's take a look at what a specific example might look like while applying to an account management position:
Read the job description. Identify the transferable skills and attributes required for success in the account management position job description. Keep in mind that some of these skills won't be "listed," and will need to be implied based on the information you have.
Of all the attributes listed in the job description, list your 7 strongest that you would like to highlight in the interview. For the account management position, my 7 strongest attributes might be goal-oriented, competitive, persuasive, assertive, outgoing, strong communicator, and active listener.
Prepare stories for each of these attributes, and practice responding to sample questions. Example Interview Question: Tell me about a time you had to gain commitment from a group of people for a new or popular idea.
For this question, I want to highlight my ability to be persuasive and communicate effectively.
Situation: In college, I served on a volunteer committee for the Juvenile Diabetes Foundation.
Task: Our committee was chosen to plan a concert fund-raiser that could produce at least $10,000 in revenue. We narrowed the musical options to two well-known bands. The committee was leaning toward the less expensive band.
Action: I was convinced that overall we would net more money by hiring the more expensive band because it had better name recognition with college students, so I put together a series of scenarios and presented them to the committee in a clear and detailed manner. My presentation showed that although it would cost more to hire a notionally recognized band, we would be able to sell more tickets at higher prices.
Result: When it came time to vote, it was unanimously decided to accept my recommendation. The even was held as scheduled and netted roughly $375,000 for the Juvenile Diabetes Foundation, which was exponentially higher than the initial goal.
*As you can see, using the STAR method allows you to display even your extracurricular and non-professional work experiences in a very concise and powerful manner.
–
About Avenica
Through conversation, high-impact coaching, and best-in-class support, we translate and meet the needs of our client partners by identifying and transforming potential into high-performing professionals. At Avenica, we are working from the inside out to embrace diverse thought and perspectives while actively working to dismantle systems of oppression and implicit bias. With a deeply-held belief in human potential, we transform lives and enable organizations to achieve new heights.
If you're interested in partnering with us to develop or hire your workforce, let's talk. If you're a job seeker, please apply now!