Congrats on landing your new role! You most likely have already begun telling your friends, family, and even previous colleagues. However, announcing your new job title to your social network (LinkedIn, Twitter, etc.) requires a more tactful approach. Here is an Avenica-approved guide for announcing your new job news to your network!
How to create your announcement.
Getting a job is a HUGE deal, and you should let your network know how excited you are about your new role! Your new company loves to see their employees excited about their work and your friends and family love to see you succeed. Here are all of the qualities that make up the best job announcement:
State your excitement for your new position and company
Reflect on what you've learned from your previous role and relate it to how you are excited for this new chapter in your life.
Tag your colleagues, previous managers, and other important figures that helped shape who you are today. This will show that you're grateful for your previous role(s) and that you're leaving on good terms.
Attach the logo of your new company to help your post stand out
Finally, be proud of yourself! LinkedIn is all about showing off your ever-evolving professional brand and future.
When to write about your new job.
The right time to announce your new role varies depending on if you're leaving a company for a new role. If this is your first ever professional position, this probably isn't as crucial. However, if you are leaving your company for a new career path, you may want to ensure that your plans are confirmed with your new company before you tell your boss that you're quitting. Ensure that when everything is finalized, make sure your boss directly hears it from you rather than from someone else. First, make a separate post about your departure from your previous company as mentioning both your previous and new company in the same post could create some awkward tension. Once you've left your previous role, create a new post about your new role, the company, and how excited you are about the future. Having both of these posts will show your network and future recruiters how grateful you are for your experiences.
Finally, here is a top-notch example of a former Avenica candidate posting about their new professional role with one of our clients. Use this post, or the following generic template, to help structure your post. However, don't be afraid to step outside the lines and let your personality shine through!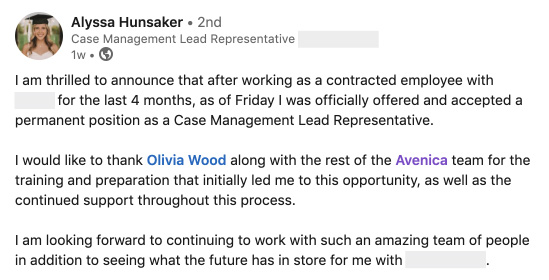 Job Announcement Template
"I'm excited to announce that I will be joining the [COMPANY NAME] family as their newest POSITION TITLE. During my time as [PREVIOUS POSITION], I've learned _____________. I'd like to thank ____, ____, and ____ for their support and for _________. I can't wait to see where this new chapter of my career will take me, and to continue growing as a professional."
Job Departure Template
"After [TIME WORKED], today is my last day at [COMPANY NAME]. I can't thank everyone enough at [COMPANY NAME] who taught me so much about ______. It's been an honor to work at a company that serves as an industry leader for _____ and allows their employees to grow as professionals. At [COMPANY NAME], I was able to ______ and ______.
While I'm going to miss all of my colleagues, I couldn't be more excited for this new chapter in my career. I'm looking forward to furthering my skills in ________ and can't wait to see where this role takes me!"
Congrats again on your new role! If you know of any job seekers that could benefit from Avenica services, direct them to apply for a role.
About Avenica
Through conversation, high-impact coaching, and best-in-class support, we translate and meet the needs of our hiring partners by identifying and transforming potential into high-performing professionals. At Avenica, we are working from the inside out to embrace diverse thoughts and perspectives while actively working to dismantle systems of oppression and implicit bias. With a deeply-held belief in human potential, we transform lives and enable organizations to achieve new heights.
If you're interested in partnering with us to develop or hire your workforce, let's talk. If you're a job seeker, please apply for a role to connect with a team member.