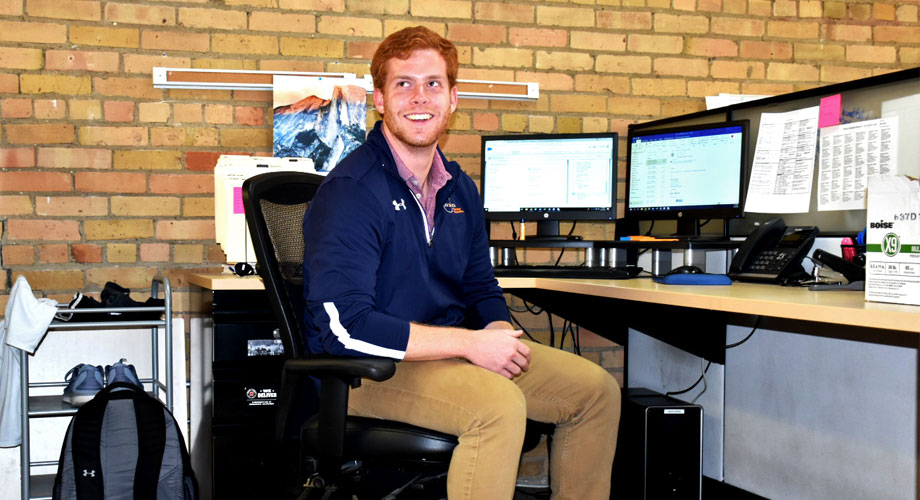 The first year post graduation: Niko's story
As fall begins, I've always looked forward to getting back on campus; the lectures, labs, professors, and all the excitement on campus from kicking off a new football season and school year. For the last 16 years, I associated the turning of leaves with a return to the classroom. That was until this year.
This fall will be the first time I'm not spending the upcoming months studying, preparing for tests, writing papers, and eating cold leftover takeout pizza. Instead, I'm a college graduate working full time, and …let's be honest, still eating leftover takeout pizza, because that's never going to change.
Life after graduation
After graduation, we're all expected to go out there, get "real" jobs, contribute to society in meaningful ways, and adult in ways we never have before. But it's not always that easy. I struggled to find full-time employment upon graduation. Even though I went on several interviews, I consistently found myself among the final candidates only to be rejected in the final stage.
Needing to work and not having the luxury of time, my first job out of college was at an industrial supplies warehouse. After four years of college, it was disappointing to be doing a job that required little to no use of my degree. Although I dreaded my days going in, I knew that continuing to work—even at a soul-crushing job that was slowly killing me from the inside out—was far better than not working at all.
On the career track
I decided to do something different. I did a little online research and found out about Avenica. After interviewing for what I thought would be a position with one of their clients, I was offered an internal position. Now-a-days you can find me at the corporate headquarters of Avenica in the North Loop of downtown Minneapolis helping to find college graduates who were once like me fulfilling positions that can kick-start their professional careers.
This is what I've learned
I've learned and experienced so much since starting at Avenica. The greatest lesson is one I've heard throughout life but has never been more applicable than when I started a new job; always ask questions. There are situations and tasks you've not experienced yet. And that's okay. What you'll learn will help you become a better, more well-rounded person and employee. Those around you will notice your interest and curiosity, and appreciate you reaching out to learn more.
Now that I know how much interaction you actually have with others in the office, I'd also strongly recommend taking the time to research a company before applying and interviewing. Talk to people who work there or have in the past to get a sense of the company culture and people. These are, after all, people you'll see and work with every day, so you want to make sure that it's the right fit. I got lucky working at Avenica; it's amazing to be surrounded by other mission-driven individuals that truly care about what they're doing and are a strong, cohesive, supportive team.
The last, and possibly one of the most important for office survival is to always label your food in the refrigerator, because if your future office is anything like mine, your staff accountant will swoop in and eat your leftover pizza, claiming he thought it was "community pizza."
Some things never change
The transition from an academic world to that of a full-time job can be difficult. But if you think about it, it's not all that different. You'll still have assignment due dates, they're just called deliverable deadlines now. You'll still be learning new things, but instead of paying tuition, they actually pay you. Just like in college, learn and get as much out of your experience as you can. It all prepares you for the next thing; it's all resume builder; and it all helps you grow as a person and as a professional. And, of course, pizza is forever.
Niko Farrell
Manager of Business Operations, Avenica
University of Minnesota, 2017
–
About Avenica
Through conversation, high-impact coaching, and best-in-class support, we translate and meet the needs of our client partners by identifying and transforming potential into high-performing professionals. At Avenica, we are working from the inside out to embrace diverse thought and perspectives while actively working to dismantle systems of oppression and implicit bias. With a deeply-held belief in human potential, we transform lives and enable organizations to achieve new heights.
If you're interested in partnering with us to develop or hire your workforce, let's talk. If you're a job seeker, please apply now!