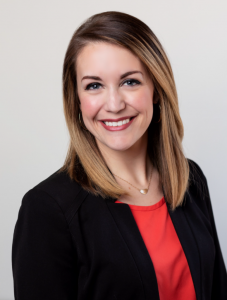 By: Lauren Olson, VP Client Solutions – North Region
On Thursday, March 5th, I attended the Association for Corporate Growth (ACG) AIM: A Women's Leadership Conference. The event was jam-packed with influential women leaders covering topics from self-care to accountability to effective leadership. Between speakers, we had the opportunity to network with peers from across the state and support local women-owned businesses. There were so many takeaways from this conference that can be applied whether you're a leader or strive to be one in the future.
Here are just a few of my personal favorites and highlights.
Anne Behrendt, CEO of Doran Company and powerhouse leader, kicked off the event with inspiring words about effective leadership. She stressed that this does not come through reading books about leadership but though learning from each experience, learning from yourself and others, and, in turn, doing great work. Anne then laid out three key characteristics of an effective leader:
Strategy: having a vision, a goal, and a plan; being thoughtful, intentional, and calculated.
Accountability: leading from a place of experience and knowledge, owning responsibility and consequences-good and bad.
Vulnerability: recognizing areas for growth and development; being a genuine, authentic person.
Knowing yourself was a theme that carried throughout the conference, and Anne did a great job of breaking that down into relatable context. Her message was simple but impactful, "In order to be a great leader, you need to first understand who you are and your natural strengths." Be you. Be genuine. Show yourself. These were three soundbites that I made sure to jot down in my notebook. Anne encouraged us to be continuous learners and be willing to accept feedback. This is great advice for anyone, whether you have direct reports or are leading through expertise and/or inspiration, because regardless of role or level or experience, we can always learn more and get better.
I loved hearing Anne talk about the moment she realized that she was a natural-born leader. While she had always known growing up that she gravitated toward leadership opportunities, it was while working as a barista at Starbucks and being passed over for a "key holder" position, that she affirmed that she had the drive and passion to be a leader. The frustration and disappointment of being passed over for a promotion are feelings we can likely relate to.
The next panel of speakers, all business owners from a variety of industries, was equally inspiring. Angela Pritchard Spiteri of the Pritchard Company said something that struck me the most. "It doesn't matter how you got your seat, it's how you use it," she said. In truth, there are a million routes a person can take to find their career path. Sometimes it's through a great connection, mentorship, career matchmaking (like what we do at Avenica), or, like many, you're among the thousands every day trying to compete and differentiate on a job board. Regardless of how you got there, own your leadership seat and know that your perspectives, insights, and talents are needed.
As the event continued, more and more inspiring women spoke about what leadership means to them and how to lead fulfilling lives. We often hear the word "balance" when referring to leading fulfilling lives in work and at home, but it was refreshing to hear, one by one, each speaker dismiss this term and commit to the reality that balance is not realistic. The idea that balance can exist between family and work is an outdated notion. For working mothers, specifically, the teeter-totter of prioritization is more closely a representation of day-to-day life. Companies that support this notion and norm create the most effective workplaces and leaders.
The next speaker, Stephanie Potter, owner of Holistic Life Coach, SMP, drilled down on self-care and why it is so crucial in today's busy world of being constantly connected to our work life. We have laptops, work from our phones, and receive constant notifications and reminders. Being able to intentionally step away and practice some key steps to improve mental, physical, and emotional wellbeing are more important than ever. Stephanie asked the thought-provoking question, "What would it feel like to live your most fulfilling life?" Whether you are a college student or seasoned leader, we all have different priorities, motivations, and personal/professional goals. It's about recognizing what motivates each of us and taking intentional actions to reach our goals. Knowing that overlooking our personal health and wellbeing—something many of do on a daily basis—can impact our performance and productivity, Stephanie encouraged us to incorporate movement into our day. This doesn't mean you need to run a marathon tomorrow, but just get moving. Go for a walk, stand at your desk, do 10 push-ups between calls (shout out to Rhoda Olsen of Great Clips, Inc. for this – more on her later). The point is, every one of us can take small steps to improve and prioritize our health and overall wellbeing.
I would be remiss if I didn't say that Rhoda Olsen, CEO of Great Clips, was one of the best speakers I have ever seen and heard. Her story and her leadership style spoke to me on so many levels. Rhoda's stage presence and ability to drive key messages was impressive. She made us laugh, and as a result, we remembered her words. She said to remember that, "Every interaction counts." Regardless of the stage you're at in your career, whether  interviewing for your first entry-level position, on the front lines interacting with clients, or leading at the highest levels, bring your best self, your 'A' game and know that any interaction has the potential to change your career and life. One great client experience can lead to a referral can lead to a promotion; one great conversation can lead to an introduction can lead to a job offer; and one great teachable moment for one of your employees can lead to their higher productivity can lead to better business performance.
Beyond these examples were many more inspiring moments and stories. However, I will leave you with one final quote from my friend and dynamo leader, Emily Nicoll of CBRE. Emily spoke on the Caregivers panel and shared these words, "one category [of your life] impacts all categories." As many of us know and have experienced, our home life impacts our work life and vice versa. Giving ourselves the opportunity and time to learn, grow, and prioritize our lives appropriately is increasingly important as we navigate and weave in and out of personal and professional obligations.
A huge shoutout to ACG AIM for organizing this impactful and inspiring event and to the leaders/speakers for bringing their perspectives and whole selves to the conference.
–
About Avenica
Through conversation, high-impact coaching, and best-in-class support, we translate and meet the needs of our client partners by identifying and transforming potential into high-performing professionals. At Avenica, we are working from the inside out to embrace diverse thought and perspectives while actively working to dismantle systems of oppression and implicit bias. With a deeply-held belief in human potential, we transform lives and enable organizations to achieve new heights.
If you're interested in partnering with us to develop or hire your workforce, let's talk. If you're a job seeker, please apply now!